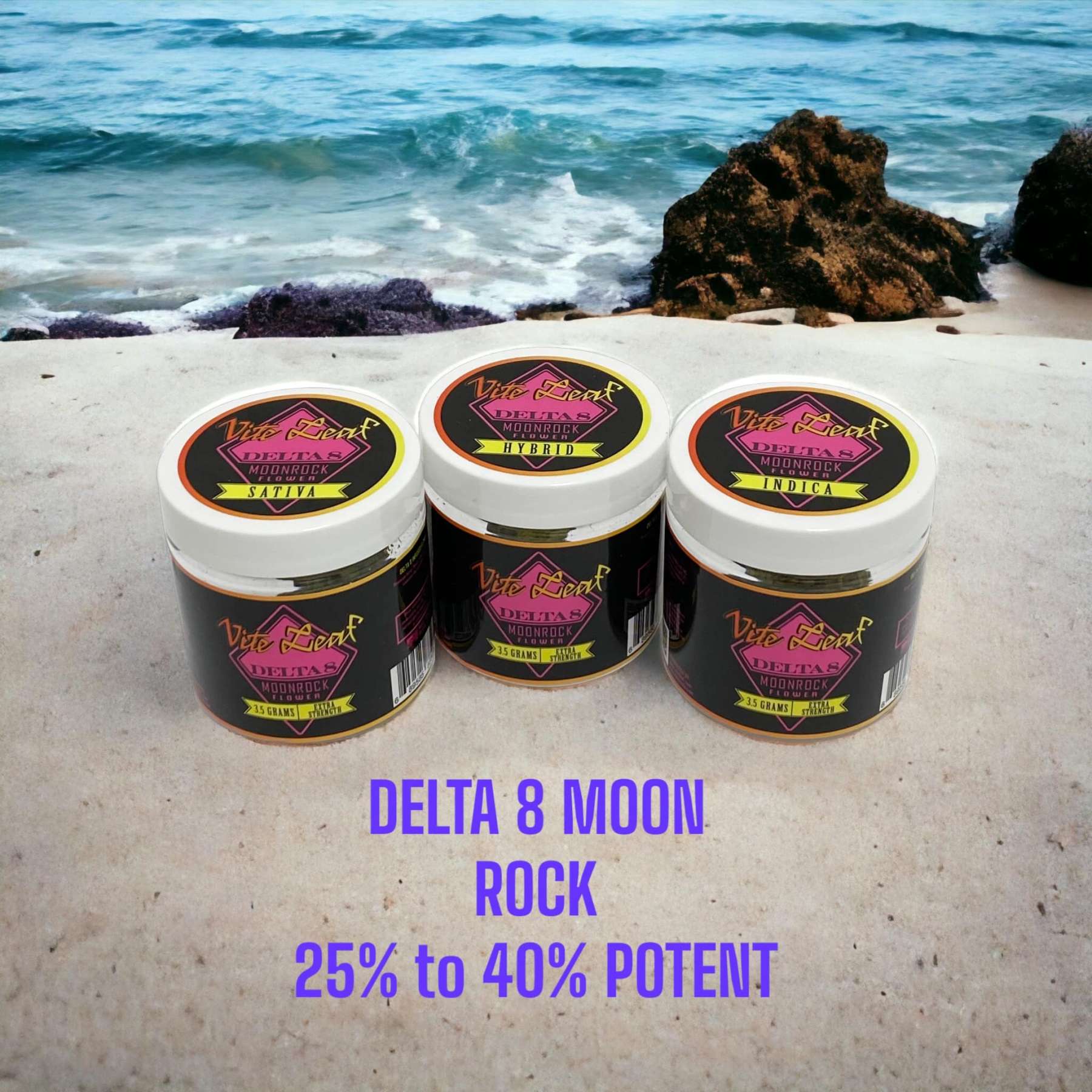 Vite Leaf Delta 8 Flower Moon Rock
$24.99 – $44.99
Product Info:
• 3.5g to 14grams per container
• Full Spectrum Hemp Flower
• Third Party Lab Tested
• Made in the USA
Ingredients: Hemp Flower
Description
Additional information
Description
Delta 8 Flower Moon Rock
Vite Leaf's high-quality Delta 8 Flower Moon Rock is indoor grown from premium CBD Hemp Buds dipped in Delta 8 THC distillate and dusted with a CBG Keif. Our moon rock is flavorful and has pleasurable, relaxing effects . Delta 8 THC is federally legal and legal in most states. Delta 8; 370mg per gram.
Our Delta 8 infused moon rock is so delicious it is hard to tell your smoking hemp. Many people find today's marijuana is to strong and are turning to Vite Leaf for a relaxing experience. We only pick the best strains to infuse. We hand pick our buds to insure the best smokable quality for our customer.
Contains less than 0.3% delta 9 THC
Enjoying our Delta 8 Flower Moon Rock? Try our THC-0 Flower Moon Rock!
Available in 3 sizes:
3.5 Grams
7 Grams
14 Grams
Strains: Sativa, Indica, Hybrid
Dosage: 370mg per gram
What is THC Delta 8 ?
THC Delta 8 , one of the four most common cannabinoids, is similar to its psychoactive relative Delta-9 THC, but with several key differences. THC Delta 8 is chemically different from Delta-9 THC by only a few atomic bonds and still offers a potent effect of its own. Tetrahydrocannabinol Delta 8 has a lower psychotropic potency than its close cousin Delta-9 THC
Try our CBD Flower
We also have edibles: Delta 8 Gummies
Try our Delta 8 Pre Rolls – They come in 3 different strain and 7 different flavors!
Additional information
| | |
| --- | --- |
| Size | 14 Grams, 3.5 Grams, 7 Grams |
| DELTA 8 STRAINS | Godfather Sativa, OG Kush/Indica, Chemdawg Hybrid, Original Glue indica, Wedding Cake Hybrid, Super Silver Haze Sativa, Durban Poison sativa |